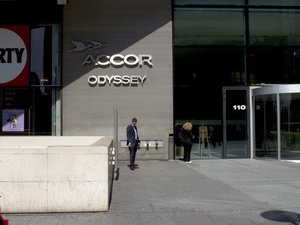 The Accor group has been present in Vietnam for 20 years, beginning with the introduction of the Metropole Hotel, now known under the name of Sofitel Legend Metropole Hanoi. In 1996, Metropole became the first hotel in Vietnam awarded the first 5-star hotel by Vietnam Tourism Department. In 1998, Accor introduced the Novotel brand to Vietnam - Novotel Phan Thiet Ocean Dunes & Golf Resort, and then quickly opened its first representative office in Ho Chi Minh City.
Accor Worldwide
Accor is the key group in the field of hotel management in the world and the market leader in Europe, is present in 90 countries with 4,200 hotels and managed more than 500,000 rooms.
Accor has managed a large portfolio of hotel brands - Sofitel, Pullman, MGallery, Novotel, Suite Novotel, Mercure, Adagio, ibis, all seasons, Etap Hotel, Formule 1, hotelF1, Motel 6 and related services as Thalassa sea & spa and Lenotre - provided a variety of services ranging from luxury to budget ranks. With 145,000 employees worldwide, the Group offers to customers and partners with the most professional service based on 45 years of experience
Accord Vietnam
Accor is currently operating 11 hotels across the country from the middle-class brands such as Novotel and Mercure to luxury hotels line as MGallery and Sofitel. Not only that, the Group is implementing a strategic plan to expand an additional 15 new hotels in the system and released two new hotels brand: ibis and Pullman - a leading budget hotel brand of Accor and announced extended network in Vietnam with three new hotels:
- Novotel Hue hotel: with 230 newly built rooms, located in the ancient capital of Hue, including 3 restaurants, 1 large conference room, meeting facilities with swimming pools and spa.
- Novotel Da Nang hotel: the 2
nd
hotel of Accor in Danang after Mercure Danang, and will go into operation later this year. This 346 rooms hotel is located on the banks of the Han River in the center of the city.
- Mercure Sam Son hotel: 200 rooms in Sam Son, a coastal city of Thanh Hoa province, 170 km from Ha Noi to the South.
Beside the 3 above new hotels, Accor is committed to further development to achieve a total of 15 hotels in Vietnam. The new hotels will contribute to expanding the scope of Accor group over the country and increased 3,700 rooms in the Accor hotels network in Vietnam.